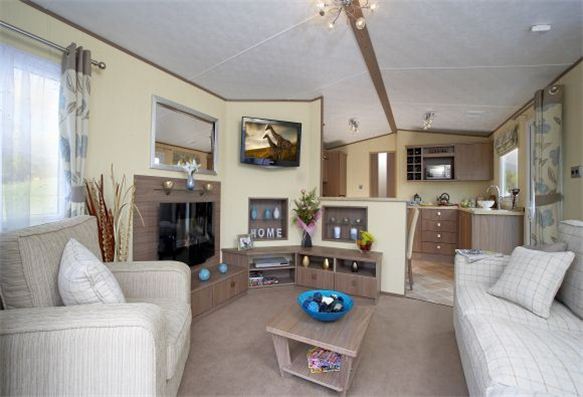 At North Wales Caravans we have always known that we are located in the best part of Britain and the latest celebrity to agree with us is Coleen Rooney, who has in the past year, purchased a luxury static caravan in Prestatyn , purported to have cost £25,000. We weren't lucky enough to sell it to her but we do of course have similar state of the art luxury Static Caravans for sale in North Wales.
You might wonder why the Rooney's, who are more accustomed to tanning themselves on exotic beaches, would choose Prestatyn as a location for a holiday home but being British, we are not surprised.
Caravans and Holiday Parks have evolved
Holiday parks have evolved to meet the needs of all families, celebrity or otherwise. Standards on good caravan parks are unbelievably high in comparison to a few years ago with facilities that cater for absolutely every type of holidaymaker.
Holiday homes located on the parks, without doubt, include every amenity that people have in their main residences and possibly more in the luxury Static Caravans for sale nowadays.  En-suite bathrooms plus a family bathroom (sometimes with a Jacuzzi bath installed) and fully fitted kitchens are no longer unusual. Central heating, double glazing, insulation, ventilation, mains electricity and water are the norm rather than the exception as they used to be.
In addition, furniture can be free standing just as it is in your own dining room and lounge, you can have a feature fireplace, flat screen TV, surround sound speakers with an inbuilt music system and indeed anything that you might have at home. The choice is very much yours, completely custom built to your specification if required.
Parents can relax knowing the children are safe
With a reasonable sized pitch, decking and garden Static Caravans are now both comfortable and highly desirable holiday properties where families can unwind, or have adventure packed holidays. Adults can relax whilst the children become involved in activities especially designed for them by the park operators.  Parents don't have to worry about where the children are or for their safety.
Access to great holiday parks
If you are in our area this Bank Holiday weekend, you never know, you might just bump into a celebrity or two and if you want to look at  luxury Static Caravans for sale in North Wales, we have some of the best in the area. We also have access to great Holiday Parks ranging from quiet rural retreats to the ultimate in action packed adventure.
Everything you need under one roof
We are a one stop shop for caravans, static home insurance, caravan accessories and pitches, not to mention the wealth of experienced gained over many years in the static home industry.  Drop in for a coffee and informal chat or give us a call, whether you are considering brand new luxury model or a budget starter caravan.  We have something to suit any budget and if you need a little help, we also offer finance packages.