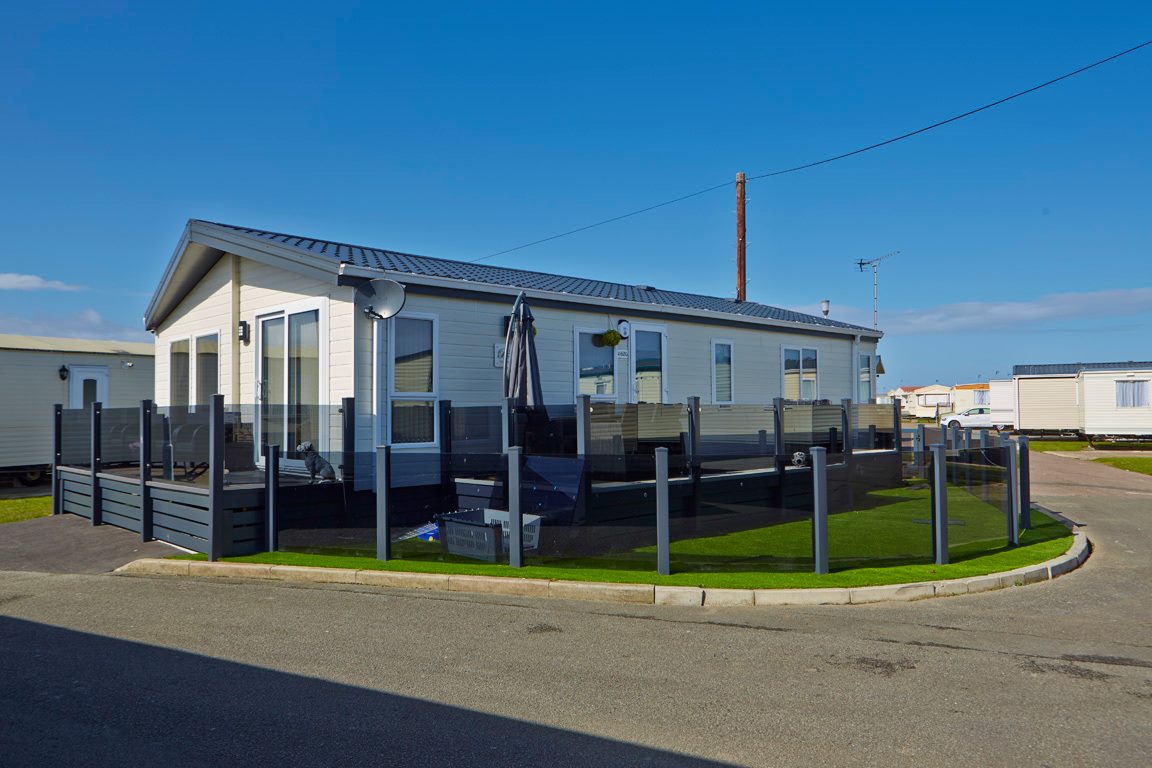 Sales of caravans and holiday lodges continue to soar on Static Caravan Parks in North Wales as the uncertainty surrounding Brexit prevails.
Many people are reticent about purchasing property abroad until such time as the situation becomes clearer. However, visiting some of the holiday parks in North Wales, you might almost believe you were in France. Much of the scenery is the same and the climate not dissimilar.
There has never been a better time to invest in a staycation holiday home to ensure that you can take your holidays whenever you want to.
A few static caravan parks in North Wales offer 12-month licences on holiday lodges that have their own communities set aside from static caravan pitches.  The plots around luxury lodges are spacious and the level of comfort and luxury is your choice depending on your budget.
At North Wales Caravans we offer both new and used lodges for sale in parks where you are able to use them 12 months of the year.  Please note this does not mean you can live in them all year round but you can use them at any time of the year for holidays.
Difference between Static Caravans and Luxury Lodges
Comparing the most luxurious model of a new static caravan to a luxury holiday lodge, there are few differences. However, you will have much more space in a lodge and a larger plot.  Rooms can be separated easily in a lodge so a separate dining room and a kitchen are possible. This is not so easy to do with a static caravan unless stipulated at the point of manufacture. Most new static caravans are purchased by the latest model rather than custom built.
You will have more storage space in a lodge and it's easy to add built-in wardrobes if you wish. It's quite difficult to add fitted wardrobes to a caravan, although many new models certainly will have them in the master bedroom at least.
A lodge is the closest you'll find to a holiday cottage but cottages are not usually found on a site where everything you need is within walking distance.
Facilities on Caravan Parks in North Wales
Most holiday parks have so many facilities that it's like visiting a mini village. Except, of course, there are more activities than you would ever find in a village. With live entertainment in clubhouses and bars, quiz nights and bingo there's always something to enjoy.  You'll find wall climbing, mini golf, archery and many other activities to amuse or keep you fit on a holiday park.
Invariably there is a restaurant if not two, bar/coffee shop, launderette and a small food shop or supermarket on site.  Sometimes there are beauticians and hairdressers.  Anyone arriving to just chill out for a long or short weekend break need never leave the park unless they want to. Everything you need is on site providing you choose a park that matches all your requirements.
Caravan Parks in North Wales vary
There are so many static caravan parks on the North Wales coast and inland. The further inland you go, the quieter a park is likely to be.  Those near to the coast cater mainly for families with children. This means that the park will be extremely busy during the school holidays.  Children are taken care of in the Kid's clubs so the parents can go off and do their own thing occasionally.
Out of season, family orientated parks will be less crowded and naturally less noisy. If you intend to take your holidays out of peak season, both coastal and inland parks will be fine.  However, if you want guaranteed peace and quiet during your holiday choose a park that is inland.
Choice of Static Caravan Parks in North Wales
North Wales Caravans are able to offer a choice of caravan parks both for holiday lodge purchase and static caravans for sale. We also take great care in listening to your needs because getting the location right is equally as important the type of holiday home you buy.
If you are considering investing in great staycation holidays this year, check out some Static Caravan Parks in North Wales here.
Top locations for Holiday Homes in North Wales
Over the past few years, Holiday homes have become more popular than jetting away to foreign shores. Nature loving, British holidaymakers extol the virtues of holiday lodges and caravans. North Wales has become a favourite destination for many thousands of visitors year on year because it has so much to offer. Below are a few reasons why North Wales is the Top location for Holiday Homes.
North Wales has a thriving industry for caravan sales and people who own a holiday home here are some of the most contented in the country. Naturally, there are certain factors to take into consideration when purchasing and here are some that are important.
Holiday Parks
When you have bought your holiday lodge or static caravan it's yours for life, your place to escape to for short breaks or long holidays. You have the flexibility to take a weekend away at a moment's notice, so the location of it is a primary consideration.
You might want a quiet rural retreat or to be in a lively coastal resort, or maybe close to towns that are rich in culture. There are holiday parks in North Wales that can match any criteria, no matter how discerning a person may be. Some are exclusive, secluded sanctuaries that cater solely for owners, with no rentals permitted. Others are strategically developed very near the coast so that those who love water sports and sunbathing can just step out of their holiday homes onto the beach. Many are located within easy reach of World Heritage sites and nature reserves. All enjoy spectacular views of mountain scenery and lakes to coastal seascape.
North Wales Caravans has access to several fantastic holiday parks as well as a comprehensive range of new and used caravans. North Wales is our home and if you purchase from us you can be certain that we will help you find your ideal place.
Lifestyle
There have been many surveys conducted over the past couple of decades and holiday home owners invariably place comfort at the top of their priority list when choosing a holiday home. A close second is luxury, something that is equal to, or better than, they have at home. Our Caravan Sales North Wales office keeps a huge stock of new and used static caravans for sale. Many units have such features as central heating, air conditioning, double glazing, fully fitted kitchens and stylish bathrooms. Modern caravans are spacious and similar to luxurious holiday apartments with the bonus that they are all detached!
We also have stunning holiday lodges on exclusive developments that have 12-month license for use. You can choose the features you want in some static caravans and all holiday lodges.
Have a look at some of our great parks and get in touch if you have any questions.