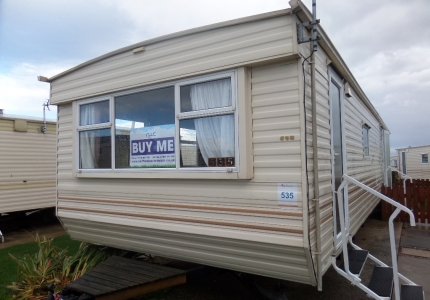 If you're interested in a unique holiday in North Wales then look no further than a static caravan in one of our fantastic parks. Not only will you save money on future holidays with your very own holiday home, you can even earn a little bit of money by renting out your static caravan when you don't need it. Caravan holidays are surprisingly fun thanks to all of the exciting activities that are just waiting to be discovered in North Wales. If you've ever thought about owning a sited caravan, then check out if we have a static for sale to suit your requirements.
What Is a Static Caravan?
If you're searching for different holiday opportunities then you've probably stumbled upon the idea of owning a caravan, but what exactly is a static and what kind of holiday opportunities does it offer? We get questions all the time regarding what a static is and how it can benefit our customers, so here's a short section that will convince you that owning a static can be a great addition to your holiday choices.
As you may know, caravans are a type of travel home that is usually on wheels. A Static Caravan, also known as a "Holiday Home" is a caravan placed on a plot of land. Even though it has wheels, the caravan is usually parked or "sited" for a long period of time on a Static Caravan Park. We have a number of great parks caravan parks where you'll be neighbours with other holiday goers and you'll have plenty of local amenities to enhance your experience. All of our caravan parks are easily accessible and there are a variety of locations that will meet your needs.
Golden Gate Holiday Centre – Towyn – A beautiful park with facilities for all ages. There are quiet areas to let you get some peace but the community is wonderful. Buying a sited caravan here is a great choice if you're looking for the best value in an all-inclusive package. Click here for more info.
Whitehouse Leisure Park – Towyn – For your very own holiday home, take a look at the static caravans we offer at Whitehouse Leisure Park. Situated on the North Wales coast, this park has easy access to some of the region's most iconic locations. Click here for more info.
Ty Gwyn Holiday Centre – Towyn – With access to the beach, a seafront and a cycling track, Ty Gwyn is perfect for anyone that wants to have a relaxing break whenever they want in their own static caravan.
Sirior Bach Caravan Park – Abergele – Sirior Bach is a wonderful country holiday park in a beautiful setting. All Caravans and Lodges here have plenty of space and it's the perfect location for hikes and exploration. Click here for more info.
At North Wales Caravans, we offer some of the best used static caravans that you'll find on the market. This makes owning a static caravan cheaper than you might think. Our selection of preloved statics at our various parks will make it exciting and easy for you to choose your dream holiday home.
How it Works
We follow a simple structure at North Wales Caravans. When you contact us, we'll help you find the right caravan for your needs. We'll ask you questions such as how many people you'll be inviting to your caravan and what colour scheme you like. Next, we'll discuss funding options (more on that below) and then help you find the right caravan park. We'll go through discussions like what amenities each park has, which park is right for your use case and what plots we have available. We also showcase our caravans on the website, so just take a look at our preloved statics or new statics for sale to get an idea of what we have on offer.
Afterwards, we'll help you figure out the running costs of your caravan. We won't hide anything from you and we'll give you the full price of the caravan, any interest you might be liable for and also administration fees. If you don't use your sited caravan, then there's always the option of renting it as a holiday home to other families, your friends or relatives. It's a great way to make a bit of money when you're not using your holiday home.
Used and New Statics for Sale
At North Wales Caravans, we believe in offering the best value for all our buyers. This is why we have a large range of sited caravans to suit anyone's budget. Our used caravans start at just £9,995 for a 3-bedroom static that can sleep up to 7 people. In our new range, the Europa Caernarfon is a 2017 build that starts at just £34,995. No matter what you go for, you're guaranteed to get a fantastic static thanks to our build quality and dedication to our craft. Check out these links to see our range of used Static Caravans or New Static Caravans.
We have static caravans that suit any needs you may have. We have 2-bedroom sited caravans that come with the essentials and basics, but we also have high-end statics for sale that is more akin to lodges. With beautiful furniture, decor and many luxurious amenities, you can't go wrong with North Wales Caravans if you want something that's leaps and bounds ahead of the typical caravan. Our used statics are great as well. We have large 40×16 preloved statics with central heating and double glazing and are perfect for families of all sizes.
Financing Options for You
While purchasing a static is nowhere near the level of purchasing an entire home, we do understand that it does take a lot of money and you might be put off by the price. However, North Wales Caravans offers financing options that can help you pay for your desired caravan. Our low APR financing options are perfect for anyone looking to get their first home away from home. Simply fill out our financing form and we'll get back to you as soon as possible with options that can fit your budget.
We believe that everyone should get the experience of a static, so don't be afraid to contact us for more details if you're unsure about the specifics of our financing details or if you're unsure about the features that you might need.