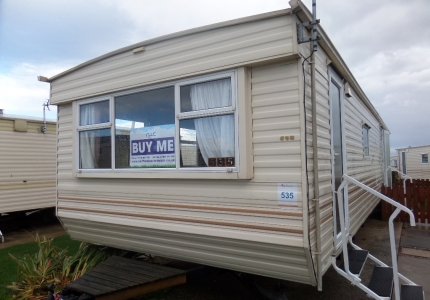 There are a number of reasons that people look for cheap Static Caravans for sale and North Wales tends to be one of the most popular areas in the UK to search for them. There are so many busy resorts and family holiday parks in North Wales, it's not surprising that thousands of holidaymakers choose to spend their annual holidays there as well as innumerable weekend breaks.
Our customers buy cheap Static Caravans primarily to test the water in UK caravan holidays. Invariably they love the experience and go on to upgrade their starter homes to bigger and better models. Other buyers purchase more than one caravan to rent out. This means that the site and maintenance fees are covered by the rental income so that if they want to use them for their own holidays it's effectively free.
Here are four of our 'Best Buy' bargains in Cheap Static Caravans for Sale North Wales:
Willerby Caernarfon – built in 2000, for sale on a choice of parks in Towyn, Abergele. This used Static Caravan is a perfect bargain for beginners, measuring 35 x 10 with 3 bedrooms and the capacity to sleep 8 people comfortably. Price includes siting, connection, steps and handrail – a snip at £7,995. Click here for more details about the Willerby Caernarfon.
Delta Nordstar built in 2001, it's located on Whitehouse Leisure Park, Towyn, Nr. Abergele. Lovely spacious 2 bedroom model, ideal for first-time buyers working on a tight budget or to add to your inventory of rental caravans. This used static is 35 x 12 and can sleep 6 utilising the lounge. Price includes siting and connections – a real bargain at £7,995. Click here for more details about the Delta Nordstar.
Willerby Westmorland used Static Caravan for sale, built in 2001.  Measuring 28 x 12, the caravan has central heating and a pantile pitched roof.  Small price for a lot of caravan at £8995 – more details about the Willerby Westmorland here.
Abi Arizona 2001 model. This is one of our used Static Caravans for sale where you have a choice of holiday parks in North Wales to site it on. It's a 6 berth with two bedrooms and measures 30 x 12.  Perfect for holiday rentals or a starter Holiday Home it's been recently reduced from £11,995 to just £9995. Click here for more information on our range of used Static Caravans for sale.
Contact our Sales team for Cheap Static Caravans for Sale, who will be happy to show you the many Static Caravans we have in stock. And don't forget to look out for deals on site fees and other extras that we offer.