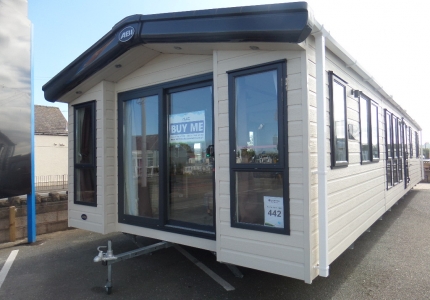 Extreme weather is something that we are becoming accustomed to in the UK and although scientists can't absolutely confirm that flooding we have experienced in recent times is as a result of climate change; the likelihood is that extreme weather is here to stay for the foreseeable future. The problem for a new Caravan owner is that renting their caravan to holidaymakers can't guarantee that extreme weather will only happen in the winter months.
Heavy rainfall can happen in the summer too and summer showers have certainly increased over the years and here are some guidelines for Static Caravan owners to reduce the risk of damage caused by extreme weather:
Where to site your new Caravan
Some Static Caravan Holiday Parks may be at higher risk of flooding than others. Hence when you buy a new Caravan think carefully about where you site it. Avoiding a problem is infinitely preferable than having to deal with the damage flooding can cause. Whilst it may appeal to you to be near a lake or river, enjoying the view whilst you are on holiday, study the records of flooding in the area before you make your final decision.
Caravan pitches that are in valleys or at the base of hills are also places to check out in terms of flooding.
Make sure the caravan is raised off the ground
When you look at new or used Static Caravans for sale ask the dealer or owner how far the van can be raised off the ground. This varies depending on the model of the caravan, so ask for the specifications and seek advice on height safety limits if you don't know the maximum possible.
Flotation collars
There are several types of flotation collars available on the market with some being more expensive than others. Flotation collars work on the basis of creating a barrier between the caravan and water that is likely to flood it. The basic principle of some is that they can be inflated to provide a barrier between your static and encroaching waters. Whilst effective, it is best to seek advice from your caravan dealer before spending money on them.
Check the weather forecasts
It might seem obvious but keep up to date on weather forecasts. You'd be surprised how many caravan owners don't but advance warning of a flood makes the difference between saving items that may be affected by water damage and losing them if they are not removed. At the same time as checking out what's happening with the weather, you should also see if the Environmental Agency has issued any warnings of possible flooding.
If you find a new Caravan for sale where the Caravan Dealer also offers a pitch, ask about vulnerability of the pitch in terms of flooding. Naturally, a pitch on high ground is much better than one on low.
The local environmental agency or the caravan site operator will be able to advise you on where to get sandbags. You should check this out well before you are ever likely to need them.
Remove valuable items
Over the winter months, it is practical to remove any valuable items or fittings especially if you live some distance away from your Static Caravan. Alternatively, you could get a trusted person on site or someone local to do this for you. Most Static Caravan insurance policies require you to remove certain types of possessions in any event, regardless of weather conditions.
Check door and window seals
New Static Caravans for sale have excellent door and window seals but used ones may have some weak areas around the seals. Check the door and window seals before purchasing. Air vents will make your caravan particularly vulnerable to water damage unless you seal them off when a flood is in progress. However, if you do this ensure that you remove any sealing afterwards. If you are holidaying in the caravan at the time of a flood don't seal all the air vents because dangerous fumes not able to escape, will cause you harm.
All of the above-mentioned guidelines really amount to common sense but accidents do happen. Dealers with Static Caravans for sale can often arrange caravan insurance for you at the time of purchase. However, no matter which provider you choose, study the policy to understand what is covered. Static caravan insurance providers are unlikely to cover a caravan that is pitched on a Holiday Park that has been flooded in the past where damage has occurred to vans located on it.