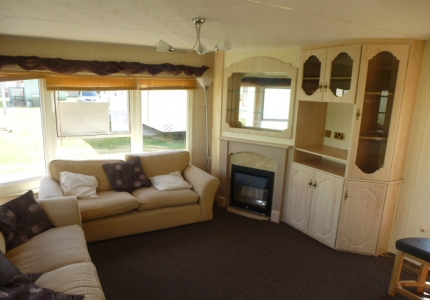 Many of us, when we consider purchasing a holiday home, think about villas abroad and in the past, people have paid hundreds of thousands of pounds for such properties in Spain, Portugal, Italy and France.  Since the recent global financial crisis from which many EU states have not recovered, international property owners have seen the value of their holiday homes hit rock bottom with no chance of selling them at reasonable prices any time soon.  It's easy to look back in hindsight but thousands of people throughout the UK, instead of purchasing abroad, bought state of the art Static Caravan on holiday parks located across the length and breadth of the British Isles. These happy static caravan owners appreciated that not only are there some outstanding holiday locations in Britain, but unlike a villa or apartment abroad that can only be visited once or twice a year, they can use their holiday homes much more frequently.
Sun, sea and sand
The majority of holidaymakers are looking for sun, sea and sand so would go on to the Mediterranean because you could at one-time guarantee that the weather would be warm. Global climate change now means that no one can be certain that the sun will be permanently shining on holidays abroad.  For example, a favourite haunt used to be Tenerife which was referred to as "the Island of Eternal Spring". This Spanish island didn't have a winter period for decades but it's not the case now. Tenerife gets all the seasons now.
A beach in Britain during the summer is not so different from Mediterranean beaches and the great thing for Static Caravan owners is that they don't have to book flights and spend a day travelling to get to their holiday homes.
Luxury holiday homes
A person looking for a villa in the Med might not even consider the benefit of owning a holiday home on a caravan park because of preconceived ideas of what caravans are. They think of the old campsites and run down trailers because they haven't seen the advances made both in caravan construction and UK holiday parks. Nowadays these static holiday homes are nothing short of luxurious and the parks have all the facilities you would expect from a high standard holiday resort.
Static Caravan owners haven't been greatly affected by the recession either. Their vans do depreciate in value over years but nothing on the scale of property abroad; and if they want to upgrade it's easy to negotiate a trade-in against a superior model at an affordable price.
If you are looking to buy a used Static Caravan or at least investigate the possibility, why not browse through our inventory?  Based in one of the most popular resort areas in North Wales we are always available to show you around a wide variety of caravans for sale as well as some parks where you can pitch them. Whether you are looking for a busy resort to entertain the whole family or a quiet rural retreat, we can offer anything you need at an infinitely cheaper price than any property abroad.