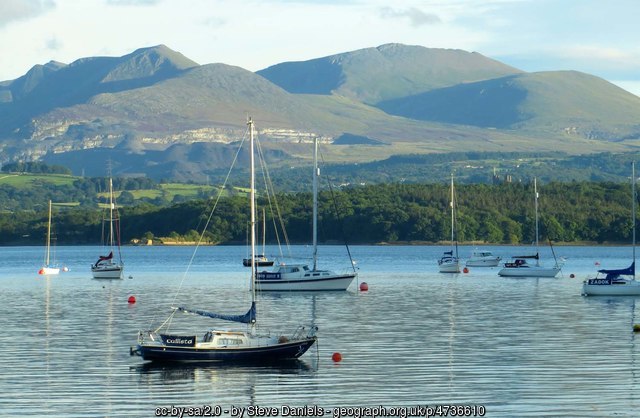 There are many fantastic Static Caravan Parks in North Wales that everyone needs to visit at some point during their lives. Most of them are family-friendly, and so they're perfect for those who want to spend some time away without having to worry about getting on a plane or paying for travel insurance. In the hope of pointing you in the right direction, this article contains some of the top caravan sites in North Wales for your perusal. If you'd like to stay at any of these places this year or keep your caravan there, it's sensible to make your booking as soon as possible as these sites tend to sell out fast. That is especially the case during the school holidays when lots of other families choose Wales as their ideal destination.
Golden Gate Holiday Centre  – Towyn
The Golden Gate Holiday Centre is the perfect place for families that already own a static caravan and want to keep it somewhere they can visit multiple times each year. There are lots of site facilities for all ages, and the site fees are competitive. Towyn is always a popular destination for single people, couples, and families alike. That is why the Golden Gate Holiday Centre gets excellent reviews online. It's one of the best family holiday parks in Wales today, and the location welcomes thousands of happy holidaymakers every twelve months.
You can take your dog along to the Golden Gate Holiday Centre as the site is pet-friendly. That's excellent news for people who would otherwise have to pay for kennels. Electricity and gas are included in the price, and fees for the traditional season are sure to be reasonable. Note that it does cost a little more if you want to keep your static caravan there during the extended season.
Whitehouse Leisure Park – Towyn
Whether you're looking for a weekend break or something more substantial for the entire family, Whitehouse Leisure Park should remain at the top of your considerations list. It's the perfect place to hire a static caravan for your holiday or even purchase a second home. The site is located on the coast, and so it's one of the best caravan parks in North Wales by the beach. There are first-class facilities for everyone to use, and the team working at the location sell some of the most beautiful static caravans in the country. All pitches come with electricity and gas hookups, and you can take your pets here too!
People who want to keep their static caravans at this site will have to pay £3,850 for the season. Again, that is competitive and somewhat well-priced for the coastal area of Towyn. Whitehouse Leisure Park has a reputation for being one of the most exclusive and prestigious caravan parks in the town, and that's why it's always popular with retirees and those who want to get some peace and quiet during their break.
Sirior Bach Caravan Park – Abergele
Just down the road from Towyn, you will find the town of Abergele. Sirior Bach Caravan Park is one of the most popular country holiday parks in the area, and it attracts hundreds of people from the UK and further afield every single year. It's about three miles inland from Abergele, and you shouldn't overlook this place when planning your break. It's one of the most fantastic parks in the region due to the spacious nature of all the caravan plots. People who visit this park tend to enjoy lots of countryside walks in North Wales, and the team working for the company is always around to offer recommendations on where to go. All plots come with electricity, but you have to use a gas bottle at this site. However, the fees you pay include water rates, and that's a bonus.
Site fees for the 2018 season are £3,749 for anyone who wants to keep their static caravan at Sirior Bach, and the location is idyllic to say at least. If you're not bothered about being within walking distance of the coast, and you prefer to see some hills and mountains, this holiday park is for you!
Mountain View Caravan Park – Towyn
While Mountain View Caravan Park has lots of facilities for all ages, there are also some quiet plots for people who want to remove themselves from the hustle and bustle. So, you can get the best of both worlds when you spend time at this location. It's one of the most attractive family holiday parks in Wales, and that's why so many people choose to return here time and time again. As fantastic static Caravan parks go, you'll struggle to find anywhere that offers the same potential. There is a metre charge for electricity and gas, but water and all other general rates are included in the price.
Pitching your static caravan at Mountain View Caravan Park will cost £3,714 for the season, and you can take your dogs and other pets every time you spend a couple of nights there. As the name suggests, there are some stunning mountain views for all visitors to enjoy, and the site offers an alluring all-inclusive package that you won't want to overlook. Attractions nearby include:
Bodelwyddan Castle
Tir Prince Raceway
Knightly's Funfair
And plenty of bars, clubs, and restaurants
Now you know about some of the fantastic static caravan parks you could visit in North Wales this year, nothing should stand in the way of you finding something suitable for your family. North Wales is a beautiful area with lots of offer holidaymakers from England, Scotland, Ireland, and other countries around the world. It's the perfect place to relax in a tranquil and picturesque environment and unwind from your busy working life. As mentioned at the start of this post, if you want to keep your static caravan at any of these caravan sites or you want to hire one for the week, it's sensible to start the ball rolling as soon as possible. Above all else, make sure you have fun!